Crazy Tails®.... Your furry ones will ask for us by name!
Crazy Tails is an online pet boutique that develops and delivers unique pet gifts to our furry family and friends.
At Crazy Tails, we offer fun, unique, high-quality, and wonderful pet gifts that are really cool!
Thanks for visiting Crazy Tails. Please kick off your shoes, relax and look around for awhile.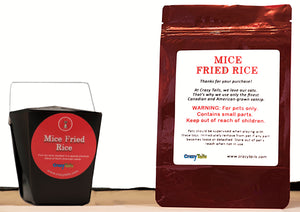 Crazy Tails®
Mice Fried Rice: A Catnip Extravaganza (BLACK Box w/Red Bag or RED Box w/Black Bag)
Meowijuana Product Collection